South Africa consumes 180 Petajoules per annum (PJ/a) of gas, predominantly in the synfuels sector (110 PJ/a) and the industrial sector (70 PJ/a). This supply is managed and maintained through various operations and requires the best valves for gas, the primary one being situated off the coast of Mozambique through a joint-venture between South Africa, Mozambique, and Sasol.
The Gas-to-Liquid refinery in Mossel Bay is the focal point of production for PetroSA, and is the third largest of its kind in the world. Production is fed from the Bredasdorp Basin, as well as the offshore Oribi and Oryx fields.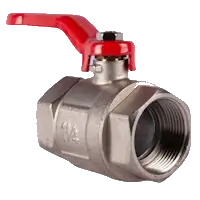 The quarter-turn operation of a ball valve ensures swift and reliable on/off operations, enhancing safety by promptly stopping the gas flow in case of emergencies.
A simple design with a spherical ball as the main component enables smooth flow control. The ball valve comes with the option of reduced or full bore and provides a reduced pressure drop, minimising turbulence.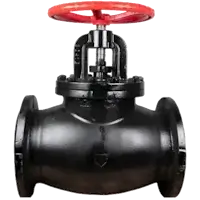 The linear motion design of a globe valve allows for precise control of gas flow, enabling gradual adjustments that are vital in maintaining accurate gas distribution and pressure regulation. This feature ensures operational stability and minimizes the risk of abrupt changes that could disrupt operations.
The globe valve's unique construction with a disk moving perpendicular to the flow direction allows for a tight and effective shut-off, preventing gas leakage and enhances safety measures.
Strainers filter out solid particles and debris from the gas stream and ensure the integrity of equipment and downstream processes. By preventing contaminants from entering the system, strainers help maintain the efficiency and longevity of pipelines, valves, and other critical components, reducing the risk of clogs or damage that could disrupt gas flow.
Easy maintenance and cleaning capabilities make them ideal for gas applications as their removable screens enable swift removal and cleaning of accumulated debris.
Top Produced Gases In South Africa
South Africa has the 13th largest natural gas reserves in the world, with an estimated 390 trillion cubic feet of gas. Offshore reserves in the Eastern Cape's south coast are the primary location for gas extraction. The Southern Outeniqua Basin is estimated to hold substantial amounts of natural gas and potentially oil as well. Inland gas exploration is showing promising results, however hydraulic fracturing (fracking) has raised implementation concerns.
Carbon dioxide is a byproduct of various industrial processes involving extracted natural gas. It is used in the beverage industry to carbonate soft drinks and alcohols, as well as food preservation and chemical manufacturing. Reducing the nationals carbon footprint is one of the primary objectives of the energy sector.
Methane is the principal component of natural gas, and is extracted at 12b cubic feet per year.  This helps fuel various sectors of the economy, namely Power Generation for Eskoms Peaking Open Cycle Gas Turbines (OCGT), and industrial applications such as chemical processes, including the production of hydrogen and synthetic gases. It is also used for domestic cooking and heating.
Extracted through air separation processes, nitrogen is used in fertilizer production to produce ammonia. It is also used to flush out oxygen from food packaging, therefore preserving the food. While used in a variety of medical applications, such as the preservation of organs, it also finds industrial application in the form of welding and metal cutting.
Oxygen is obtained through air separation and gets produced at around 2.9 billion cubic meters per year. It is essential for medical and healthcare applications including respiratory therapy and anaesthesia. In the industrial setting, oxygen-enriched air is used to improve combustion efficiency in processes like steelmaking and waste incineration.
Hydrogen gas is produced through natural gas reforming as well as other methods and is gaining recognition for its potential as a clean energy carrier. Hydrogen is a vital feedstock for the production of ammonia, methanol, and other chemicals, as well as fuel cells to generate electricity, with the only byproduct being water vapour.
Infrastructure and Utilities Updates