The Ductile Iron Swing Check Valve Flanged ensures fluid flow and prevents backflow. Constructed from ductile iron, these swing check valves offer excellent mechanical strength and corrosion resistance, making them suitable for demanding environments. The design offers a low pressure drop and minimal turbulence, making it an ideal choice for applications where a smooth and uninterrupted flow is crucial. It also minimizes the risk of water hammer, which can cause damage to pipes and equipment due to sudden pressure surges.
Designed for various industrial applications such as water supply systems, wastewater treatment plants, and oil and gas pipelines, the ductile iron swing check valve flanged ensures smooth operations and protects the integrity of the overall system. The ductile iron enhances flexibility and resistance to fractures, allowing the valve to withstand high pressures and maintain integrity over extended periods. It is also known for its durability and versatility, and its robust construction and flexibility make it a reliable component in various industrial applications.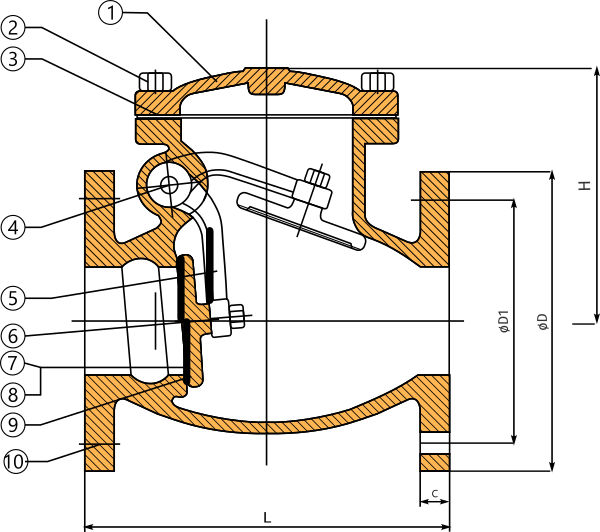 | # | Part | Material |
| --- | --- | --- |
| 1 | Bonnet | Ductile Iron ASTM A536 |
| 2 | Bolts and Nuts | Carbon Steel |
| 3 | Middel Gasket | Graphite and SS304 |
| 4 | Pin | SS304 |
| 5 | Arm | Ductile Iron ASTM A536 |
| 6 | Bolts and Nuts | Carbon Steel |
| 7 | Disc Seal Face | SS304 |
| 8 | Disc | Ductile Iron ASTM A536 |
| 9 | Seal Seat RIngs | SS304 |
| 10 | Body | Ductile Iron ASTM A536 |
All measurements listed are expressed in millimetres, unless otherwise noted. Product weight is represented in kilograms. DN size is provided in millimetres and NPS size is given in inches. These values correspond to the diagram label and its associated part.
| NPS | DN | L | øD | øD1 | C | H | Kg |
| --- | --- | --- | --- | --- | --- | --- | --- |
| 2 | 50 | 203 | 152 | 120 | 16.00 | 127 | 11 |
| 2.5 | 65 | 216 | 178 | 139 | 18.00 | 151 | 14 |
| 3 | 80 | 241 | 191 | 152 | 19.10 | 165 | 20 |
| 4 | 100 | 292 | 229 | 190 | 23.90 | 178 | 29 |
| 5 | 125 | 330 | 254 | 216 | 23.90 | 205 | 37 |
| 6 | 150 | 356 | 279 | 241 | 25.40 | 221 | 55 |
| 8 | 200 | 495 | 343 | 298 | 28.60 | 249 | 77 |
| 10 | 250 | 622 | 406 | 362 | 30.20 | 306 | 120 |
| 12 | 300 | 698 | 483 | 432 | 31.80 | 330 | 189 |
| 14 | 350 | 787 | 533 | 476 | 35.00 | 425 | 235 |
Valvetech's Pressure/Temperature Ratings according to ANSI B16.10
| | | | | | | | | |
| --- | --- | --- | --- | --- | --- | --- | --- | --- |
| Temperature ° Celsius | -10°C to +38°C | 93°C | 149°C | 204°C | 260°C | 316°C | 371°C | 400°C |
| Pressure Bar | 19.6 | 17.9 | 15.9 | 13.8 | 11.7 | 9.7 | 7.6 | 6.5 |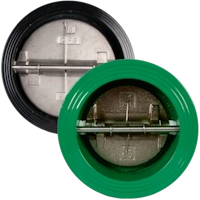 Weight: 1.5kg – 172kg
Sizes: DN 50 – 600
Class: 150
Pressure: PN16
Temperatures: -10°C to 120°C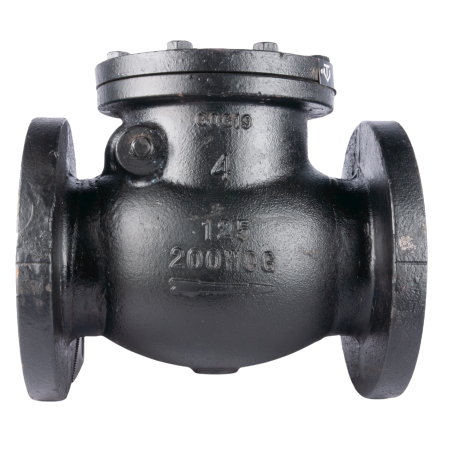 Weight: 11kg – 461kg
Sizes: DN 50 – 350
Class: 125
Pressure: PN14
Temperatures: -10°C to 230°C
Design Standard MSS SP-70
Flanges conform to ANSI B16.5
Face to Face conform to ANSI B16.10
Hydrostatically tested to AP1598
Shell Test Water 350 PSIG 2.41Mpa
Seat Test: Water 250 PSIG 1.76Mpa
Petrochemicals and Petroleum, Refineries, Primary Energy, Agriculture, Water Works, HVAC
Acetylene, Borax, Castor Oil, Caustic Soda, Detergents, Diethylene Glycol, Gasoline, Hydraulic Oil, Linseed Oil, Methyl Acetone, Nitrogen, Oxygen, Mercury, Propane Gas, Sodium Sulphate
Inventory Code and Description
DISWINGN
DI SWING CHECK 304SS TRIM CL150
FLANGED
Ductile Iron Swing Check 304 Stainless
Steel Trim Class 150 Flanged
Check Valve
Non-return Valve
Stop Valve
One-Way Valve
Please click the following PDF icon to download this specification sheet