The VT275 Cast Iron Y-Type Strainer is an essential component used in pipelines and systems to filter out impurities and debris from flowing fluids. The cast iron y-type strainer is constructed from high-quality cast iron material, known for its robust durability and resistance to corrosion. Its Y-shaped design allows for efficient filtration by trapping solid particles larger than the designated mesh size, preventing them from entering downstream equipment or causing potential damage.
The cast iron construction ensures the Y-Type Strainer can withstand high-pressure applications and harsh operating conditions, making it suitable for a wide range of industries, including oil and gas, chemical, water treatment, and manufacturing. The strainer's bolted cover enables easy access for maintenance and cleaning, ensuring smooth and uninterrupted system operation.
With its sturdy construction, the cast iron Y-type strainer provides long-lasting performance and reliability. It plays a crucial role in protecting sensitive equipment, such as pumps, valves, and meters, from clogging and damage. By effectively removing contaminants from the fluid stream, this strainer contributes to improved system efficiency, reduced maintenance costs, and extended equipment lifespan.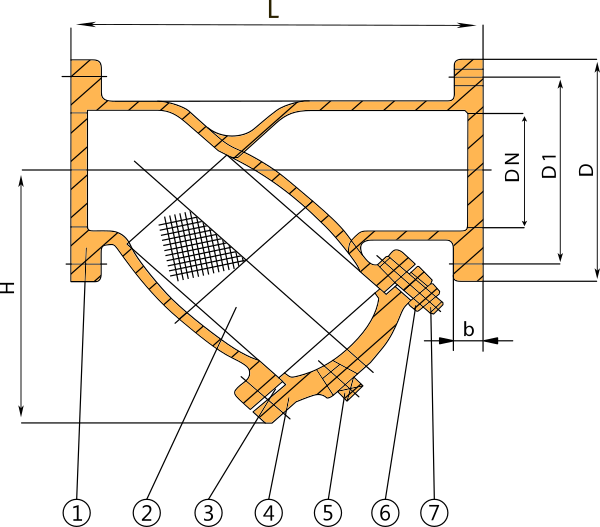 | # | Part | Material |
| --- | --- | --- |
| 1 | Body | ASTM A126B |
| 2 | Screen | 304 Stainless Steel |
| 3 | Gasket | Graphite + Steel |
| 4 | Cover | ASTM A126B |
| 5 | Plug | Malleable Cast Iron |
| 6 | Nut | ASTM A563 |
| 7 | Stud | ASTM A307B |
All measurements listed are expressed in millimetres, unless otherwise noted. Product weight is represented in kilograms. DN size is provided in millimetres and NPS size is given in inches. These values correspond to the diagram label and its associated part.
| NPS | DN | L | H | D1 | D2 | B | Kg |
| --- | --- | --- | --- | --- | --- | --- | --- |
| 2" | 50 | 225 | 176 | 121 | 152 | 16 | 13 |
| 2½" | 65 | 273 | 177 | 140 | 178 | 18 | 15 |
| 3" | 80 | 292 | 195 | 152 | 190 | 19 | 20 |
| 4" | 100 | 352 | 243 | 191 | 229 | 24 | 32 |
| 5" | 125 | 391 | 294 | 216 | 254 | 24 | 47 |
| 6" | 150 | 470 | 320 | 241 | 279 | 25 | 67 |
| 8" | 200 | 543 | 397 | 299 | 343 | 29 | 109 |
| 10" | 250 | 660 | 479 | 362 | 406 | 30 | 174 |
| 12" | 300 | 762 | 558 | 432 | 483 | 32 | 243 |
| 14" | 350 | 949 | 648 | 477 | 533 | 35 | 421 |
Valvetech's Pressure/Temperature Ratings according to ANSI B16.10
| | | | | | | | | |
| --- | --- | --- | --- | --- | --- | --- | --- | --- |
| Temperature ° Celsius | -10°C to +65°C | 100°C | 120°C | 140°C | 150°C | 160°C | 200°C | 230°C |
| Pressure Bar | 13.8 | 12.7 | 12.1 | 11.6 | 11.4 | 10.8 | 9.8 | 8.6 |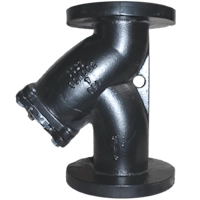 Weight: 9kg – 260kg
Sizes: DN 50 – 300
Class: 150
Pressure: PN16
Temperatures: -10°C to 400°C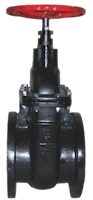 Weight: 14kg – 780kg
Sizes: DN 50 – 600
Class: 150
Pressure: PN26
Temperatures: -10°C to 400°C
Design Standard MSS SP-70
Flanges conform to ASME B16.1
Face to Face conform to ASME B16.10
Chemical Processing, Food and Beverage, HVAC, Pharmaceutical and Biotechnology, Power Generation, Water Treatment
Asphalt Emulsion, Benzine, Cane Sugar, Carbonate, Castor Oil, Detergents, Diethylene Glycol, Ethane, Fish Oil, Glucose, Lacquers, Mineral Oils, Nitrogen, Olive Oil, Propane Gas, Resin, Xylene
Inventory Code and Description
CIVT275ST050
CI Y-TYPE STRAINER FLANGED
Cast Iron Y-Type Strainer 304 Stainless
Steel Screen Class 125 Flanged
Angle Type Strainer
Y-Filter
Y-Pattern Valve Strainer
Y-Strainer
Please click the following PDF icon to download this specification sheet