Commonly used in oil and gas, water treatment, and power generation, the Ductile Iron Globe Valve strength and pressure resistance is far superior to that of the traditional Cast Iron Globe Valve. The ductile iron globe valve is known for its durability and resistance to wear and tear, corrosion, and high pressures, making it the ideal valve for boilers and steam vents, petroleums and oil systems, and heater and turbine seals.
The body of the valve is designed in a globe shape, with a disc that moves up and down to regulate the flow of fluid through the valve. The internal design of the valve allows for precise control of flow rates, making it an ideal choice for applications that require accurate flow control. They are typically operated manually, but can also be automated using actuators, making them suitable for use in a wide range of industrial settings.
Recommended: For Pricing, Availability,  Advantages, Disadvantages, and Common Industry Uses, see Valvetech Globe Valves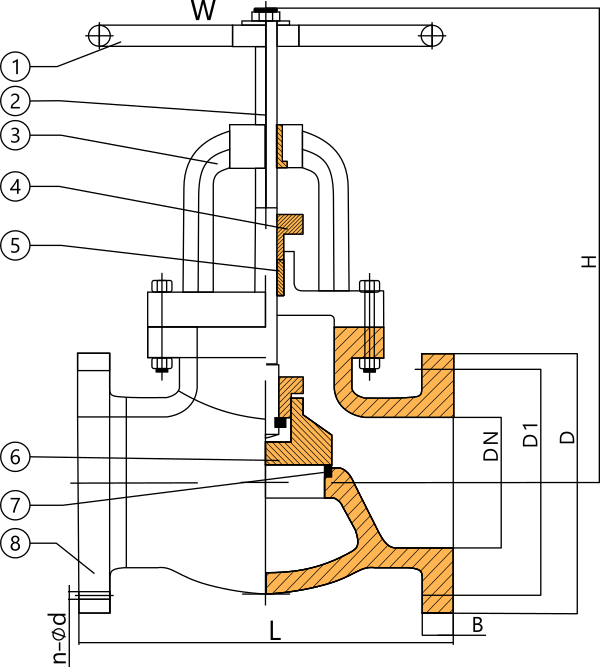 | # | Part | Material |
| --- | --- | --- |
| 1 | Handwheel | Ductile Iron A536 |
| 2 | Stem | SS410 |
| 3 | Bonnet | Ductile Iron A536 |
| 4 | Gland | Ductile Iron A536 |
| 5 | Packaging | Graphite |
| 6 | Disc | A105 + Weld 13CR |
| 7 | Body Seat Ring | SS304 |
| 8 | Body | Ductile Iron A536 |
All measurements listed are expressed in millimetres, unless otherwise noted. Product weight is represented in kilograms. DN size is provided in millimetres and NPS size is given in inches. These values correspond to the diagram label and its associated part.
| NPS | DN | L | H | D1 | D | B | Kg |
| --- | --- | --- | --- | --- | --- | --- | --- |
| 2" | 50 | 203 | 266 | 120 | 152 | 15 | 14 |
| 2½" | 65 | 216 | 279 | 139 | 178 | 17 | 16 |
| 3" | 80 | 241 | 304 | 152 | 190 | 19 | 22 |
| 4" | 100 | 292 | 405 | 190 | 229 | 23 | 32 |
| 5" | 125 | 330 | 450 | 216 | 254 | 23 | 50 |
| 6" | 150 | 356 | 550 | 241 | 279 | 25 | 57 |
| 8" | 200 | 495 | 710 | 298 | 343 | 28 | 100 |
| 10" | 250 | 622 | 880 | 362 | 406 | 30 | 165 |
| 12" | 300 | 698 | 1,000 | 483 | 432 | 31 | 190 |
Valvetech's Pressure/Temperature Ratings according to ANSI B16.10
| | | | | | | | | |
| --- | --- | --- | --- | --- | --- | --- | --- | --- |
| Temperature ° Celsius | -10°C to +38°C | 93°C | 149°C | 204°C | 260°C | 316°C | 372°C | 400°C |
| Pressure Bar | 19.6 | 17.9 | 15.9 | 13.8 | 11.7 | 9.7 | 7.6 | 6.5 |
Weight: 16kg – 318kg
Sizes: DN 50 – 300
Class: 125
Pressure: PN14
Temperatures: -20°C to 120°C

Weight: 15kg – 870kg
Sizes: DN 50 – 600
Class: 150
Pressure: PN16
Temperatures: -5°C to 400°C
Design Standard MSS SP-70
Flanges conform to ANSI B16.5
Face to Face conform to ANSI B16.10
Petrochemicals and Petroleum, Refineries, Primary Energy, Agriculture, Water Works, HVAC
Acetylene, Diesel, Epsom Salts, Gasoline, Grease, Hydrogen Gas, Lard, Linseed Oil, Nitrogen, Oil, Oxygen, Propane Gas, Steam, Waxes
Inventory Code and Description
DIGLOVT372N
DI Globe RS 304SS Trim CL150 Flanged
Ductile Iron Globe Valve Rising Stem 304
Stainless Steel Trim Class 150 Flanged
Boiler Stop Valve
Stop Valve
Throttle Valve
Please click the following PDF icon to download this specification sheet