The VT Cast Iron Butterfly Valve Gearbox is a reliable and efficient solution for controlling the flow of fluids in industrial applications. This type of valve is constructed with a durable cast iron body, which ensures its strength and longevity, making it suitable for demanding environments. The VT Cast Iron Butterfly Valve Gearbox design incorporates a disc that rotates on a shaft to regulate the flow by either fully opening or closing the valve.
The addition of a gearbox to the butterfly valve enhances its functionality and ease of operation. The gearbox provides a mechanical advantage, allowing for smooth and precise control of the valve, even in situations with high pressure or large pipe diameters. It enables operators to adjust the valve's position accurately and effortlessly, ensuring optimal flow control and system performance.
The cast iron construction of the valve and the robust gearbox make it capable of withstanding harsh conditions, including high temperatures, corrosive substances, and abrasive media. This combination of durability, versatility, and efficient control makes the VT Cast Iron Butterfly Valve Gearbox an ideal choice for various industrial applications, including chemical plants, water treatment facilities, power generation, and HVAC systems.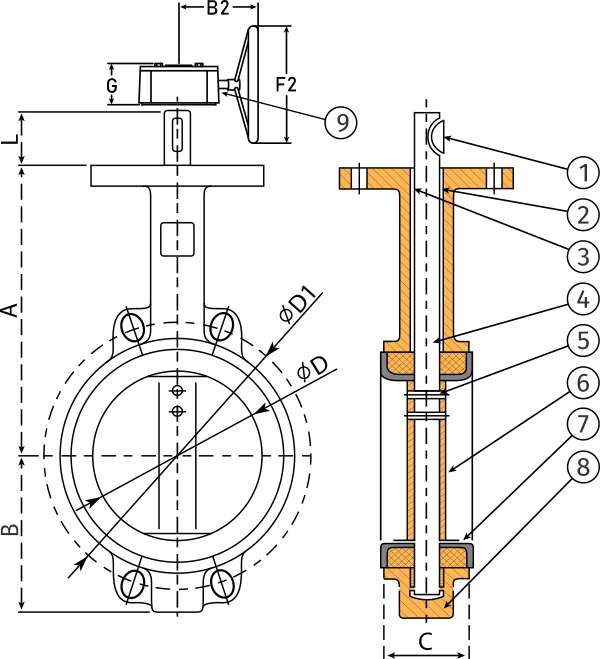 | # | Part | Material |
| --- | --- | --- |
| 1 | Key | 45# Steel |
| 2 | O-Ring | NBR |
| 3 | Brushing | PTFE |
| 4 | Stem | 416 Stainless Steel |
| 5 | Pin | 316 Stainless Steel |
| 6 | Disc | NPDI or CF8M (SS316) |
| 7 | Seat (Replaceable) | EPDM (standard), Nitrile, or Teflon |
| 8 | Body | Cast Iron (ASTM A126 B) |
| 9 | Gearbox | Ductile Iron (A536) |
All measurements listed are expressed in millimetres, unless otherwise noted. Product weight is represented in kilograms. DN size is provided in millimetres and NPS size is given in inches. These values correspond to the diagram label and its associated part.
| NPS | DN | A | B | C | øD | øD1 | L | G | B2 | F2 | Kg |
| --- | --- | --- | --- | --- | --- | --- | --- | --- | --- | --- | --- |
| 2 | 50 | 161 | 80 | 42 | 53 | 100 | 32 | 73 | 155 | 150 | 9 |
| 2.5 | 65 | 175 | 89 | 44.7 | 65 | 120 | 32 | 73 | 155 | 150 | 10 |
| 3 | 80 | 181 | 95 | 45.2 | 79 | 127 | 32 | 73 | 155 | 150 | 10 |
| 4 | 100 | 200 | 114 | 52.1 | 104 | 156 | 32 | 73 | 155 | 150 | 11 |
| 5 | 125 | 213 | 127 | 54.5 | 124 | 190 | 32 | 73 | 155 | 150 | 12 |
| 6 | 150 | 226 | 139 | 55.8 | 156 | 212 | 32 | 73 | 155 | 150 | 14 |
| 8 | 200 | 260 | 175 | 60.6 | 203 | 268 | 45 | 89 | 222 | 300 | 22 |
| 10 | 250 | 292 | 203 | 65.6 | 251 | 325 | 45 | 89 | 222 | 300 | 28 |
| 12 | 300 | 337 | 242 | 76.9 | 302 | 402 | 45 | 89 | 213 | 300 | 51 |
| 14 | 350 | 368 | 267 | 79.5 | 334 | 436 | 45 | 86 | 213 | 300 | 61 |
| 16 | 400 | 400 | 297 | 90 | 390 | 488 | 51 | 125 | 251 | 300 | 82 |
| 18 | 450 | 422 | 315 | 109 | 441 | 539 | 51 | 125 | 251 | 400 | 117 |
| 20 | 500 | 480 | 348 | 135 | 492 | 593 | 64 | 154 | 270 | 300 | 170 |
| 24 | 600 | 562 | 444 | 156 | 593 | 816 | 70 | 154 | 338 | 300 | 205 |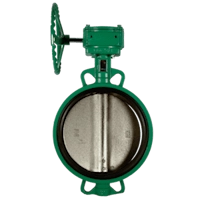 Weight: 5.3kg – 316kg
Sizes: DN 50 – 700
Class: 150
Pressure: PN16
Temperatures: -10°C to 120°C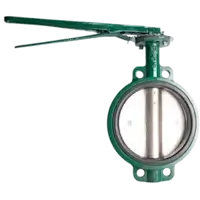 Weight: 3kg – 27kg
Sizes: DN 50 – 300
Class: 150
Pressure: PN16
Temperatures: -10°C to 120°C
EPDM (standard)
Nitrile
Teflon
Design Standard conforms to MSS SP-67
Face to Face conforms to MSS SP-67-90
Shell Test 2.4Mps
Seal Test 1.76Mpa
Air Test 0.6Mpa
Petrochemicals and Petroleum, Refineries, Primary Energy, Agriculture, Water Works, HVAC
Acetone, Acetylene, Ammonium Bicarbonate, Dry Cement, Diesel Oil Fuels, Ethane, Dry Flour, Heptane, Nitrogen Gas, Dry Plastics, Dry Sugars, Dry Sulphur Dioxide
Inventory Code and Description
TVTSSG/B
VT CI B/FLY WAFER SS G/B
Cast Iron Butterfly Valve Wafer Stainless
Steel Disc EPDM Seat Gearbox
TVTNPDIG/B
VT CI B/FLY WAFER NPDI G/B
Cast Iron Butterfly Valve Wafer NPDI Disc
EPDM Seat Gearbox
TVTSSG/BTEF
VT CI B/FLY WAFER SS G/B TEFLON
Cast Iron Butterfly Valve Wafer Stainless
Steel Disc Gearbox Teflon Seat
Duplex Valve
Lug Valve
Uni-Flow Valve
Quarter Turn Valve
Please click the following PDF icon to download this specification sheet