The Cast Iron Dual Wafer Check Valve is designed with two plates that swing open freely in response to fluid flow, allowing for efficient and obstruction-free passage. When the flow reverses, the plates quickly close, preventing backflow and potential damage to the system. This design ensures minimal pressure loss, making it an ideal choice for high-flow applications and fluid control systems. These valves prevent backflow and ensure the unidirectional flow of fluids, maintaining the efficiency and safety of the entire system.
The wafer-style configuration of the Cast Iron Dual Plate Wafer Check Valve makes it compact and lightweight, allowing for easy installation in tight spaces. It is compatible with various flange standards, making it adaptable to different piping systems. The dual plate design also reduces the overall size and weight of the valve while maintaining its excellent performance. Known for its exceptional durability, corrosion resistance, and heat resistance, Cast Iron makes it suitable for a wide range of industries and applications. It can withstand high temperatures and harsh environments in industries such as water treatment, oil and gas, chemical processing, and HVAC systems. Its reliable operation, low pressure drop, and robust construction make it a trusted choice for fluid control in critical applications.
Recommended: For Pricing, Availability,  Advantages, Disadvantages, and Common Industry Uses, see Valvetech Check Valves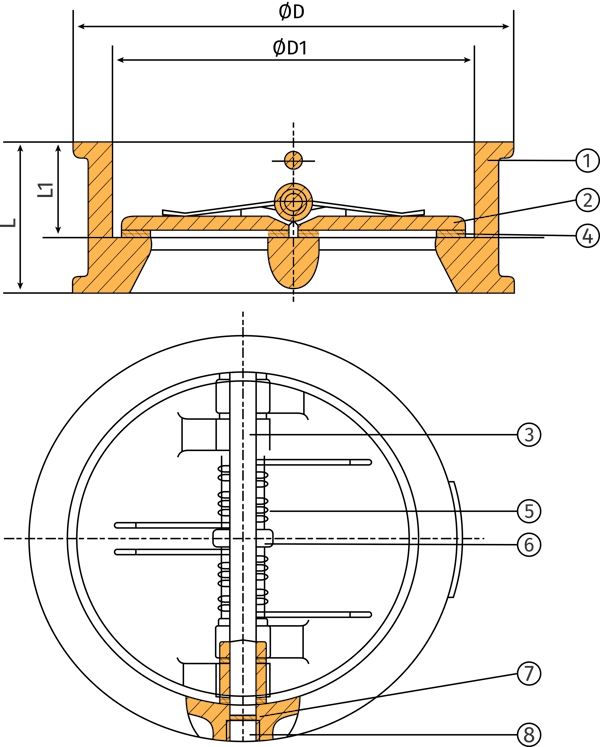 | # | Part | Material |
| --- | --- | --- |
| 1 | Body | Cast Iron ASTM A126 B |
| 2 | Disc | NPDI or CF8 (304SS) |
| 3 | Stem | SS410 |
| 4 | Seat | EPDM |
| 5 | Spring | SS304 |
| 6 | Shim | PTFE |
| 7 | Seal | NBR |
| 8 | Plug | WCB |
All measurements listed are expressed in millimetres, unless otherwise noted. Product weight is represented in kilograms. DN size is provided in millimetres and NPS size is given in inches. These values correspond to the diagram label and its associated part.
| NPS | DN | L | L1 | øD | øD1 | Kg |
| --- | --- | --- | --- | --- | --- | --- |
| 2 | 50 | 43 | 33 | 107 | 65 | 1.52 |
| 2.5 | 65 | 46 | 34 | 127 | 80 | 2.12 |
| 3 | 80 | 64 | 44 | 142 | 94 | 3.15 |
| 4 | 100 | 64 | 48 | 162 | 117 | 4.48 |
| 5 | 125 | 70 | 50 | 192 | 145 | 5.72 |
| 6 | 150 | 76 | 52 | 218 | 170 | 8.71 |
| 8 | 200 | 89 | 58 | 273 | 224 | 14.02 |
| 10 | 250 | 114 | 78 | 328 | 265 | 25.40 |
| 12 | 300 | 114 | 74 | 378 | 310 | 36.47 |
| 14 | 350 | 127 | 79 | 438 | 360 | 49.98 |
| 16 | 400 | 140 | 88 | 489 | 410 | 61.00 |
| 18 | 450 | 152 | 98 | 535 | 450 | 80.00 |
| 20 | 500 | 152 | 100 | 594 | 505 | 98.00 |
| 24 | 600 | 178 | 124 | 720 | 624 | 175.00 |
Valvetech's Pressure/Temperature Ratings according to ANSI B16.10
| | | | | | | | | |
| --- | --- | --- | --- | --- | --- | --- | --- | --- |
| Temperature ° Celsius | -10°C to +38°C | 93°C | 149°C | 204°C | 260°C | 316°C | 371°C | 400°C |
| Pressure Bar | 19.6 | 17.9 | 15.9 | 13.8 | 11.7 | 9.7 | 7.6 | 6.5 |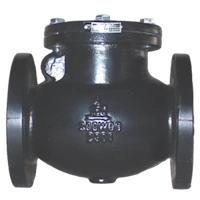 Weight: 11kg – 235kg
Sizes: DN 50 – 350
Class: 150
Pressure: PN16
Temperatures: -10°C to 400°C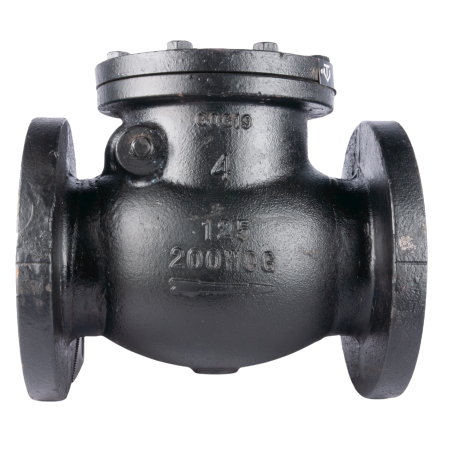 Weight: 11kg – 461kg
Sizes: DN 50 – 350
Class: 125
Pressure: PN14
Temperatures: -10°C to 230°C
Dual Plated NPDI or 304SS
Design & Manufacture to JB/T8937
End standard GB/T17241.6
Face to Face conform to JB/T8937
Shell test 2.4Mpa
Seal test 1.76Mpa
Air test 0.6Mpa
Petrochemicals and Petroleum, Refineries, Primary Energy, Agriculture, Water Works, HVAC
Acetylene, Air, Alumina, Carbon Monoxide, Cement, Diethylene Glycol, Methanol, Nitrogen Gas, Potassium Acetate, Silicone Oil, Starch, Dry Sulphur Dioxide
Inventory Code and Description
CIDUALR16-NN
CI DUAL R16-N WAFER CHECK NPDI DISC
Cast Iron Dual Model R16 NPDI 2023 Wafer
Check Valve Nickel Plated Ductile Iron Disc
CIDUALR16N
CI DUAL R16-N WAFER CHECK NPDI DISC
Cast Iron Dual Model R16 NPDI 2023 Wafer
Check Valve Nickel Plated Ductile Iron Disc
CIDUALR16-NS
CI DUAL R16-N WAFER CHECK SS DISC
Cast Iron Dual Model R16 Steel Wafer
Check Valve 2023 Stainless Steel Disc
CIDUALR16
CI DUAL WAFER CHECK VALVE SS DISC
Cast Iron Dual Model R16 Steel Wafer
Check Valve Stainless Steel Disc
Double Door Valve
Reflux Valves
Non-return Valve
Stop Valve
One-Way Valve
Please click the following PDF icon to download this specification sheet