Suitable for throttling and on/off duties, the Cast Iron Globe Valve is a cost-effective solution for steam, water, air, non-corrosive oil, and gas. The Cast Iron Globe Valves perform according to the Pressure / Temperature Tables that are required for the MSS SP-85 Standard. The valves are backseated with the expectation that the backseat be placed into the fully open position. Once in operation, the stem should be backed off from the backseat. The result of this action ensures that the non-asbestos stem packing now functions on its own.
In the event of leakage via the stem packing, the Cast Iron Globe Valve backseat may be used until the packing can be replaced. It is considered dangerous to renew the stem packing when the valve is under pressure with a hazardous product or extreme pressure or temperatures. In such cases, the system should be shut down for the replacement of packing. As well as the packing, the Cast Iron Globe valve also has an Outside Screw and Yoke Angel disc.
Recommended: For Pricing, Availability,  Advantages, Disadvantages, and Common Industry Uses, see Valvetech Globe Valves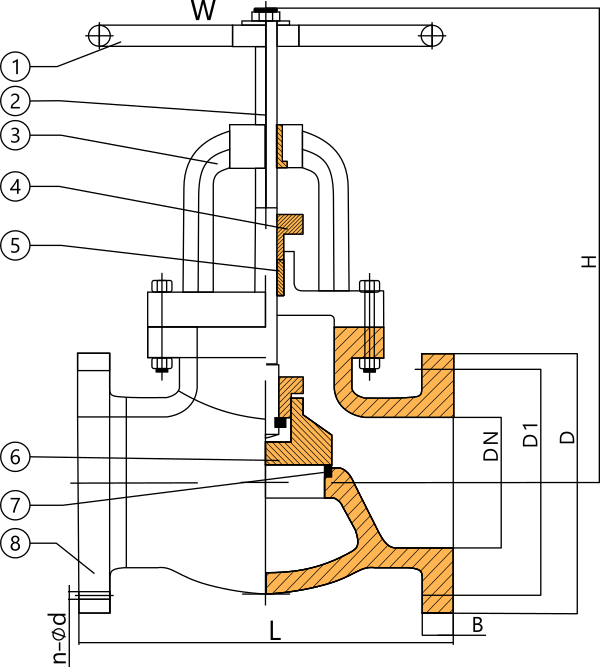 | # | Part | Material |
| --- | --- | --- |
| 1 | Handwheel | Cast Iron (ASTM A126 B) |
| 2 | Stem | ASTM B16 or 13Cr |
| 3 | Bonnet | Cast Iron (ASTM A126 B) |
| 4 | Gland | Ductile Iron (A536) |
| 5 | Packaging | Graphite |
| 6 | Disc | Cast Iron (ASTM A126 B) |
| 7 | Body Seat Ring | ASTM B62 or 13Cr |
| 8 | Body | Cast Iron (ASTM A126 B) |
All measurements listed are expressed in millimetres, unless otherwise noted. Product weight is represented in kilograms. DN size is provided in millimetres and NPS size is given in inches. These values correspond to the diagram label and its associated part.
| NPS | DN | L | H | D1 | D | B | Kg |
| --- | --- | --- | --- | --- | --- | --- | --- |
| 2" | 50 | 203 | 302 | 120 | 152 | 15 | 16 |
| 2½" | 65 | 216 | 310 | 139 | 178 | 17 | 20 |
| 3" | 80 | 241 | 337 | 152 | 191 | 19 | 26 |
| 4" | 100 | 292 | 361 | 190 | 229 | 23 | 42 |
| 5" | 125 | 330 | 395 | 215 | 254 | 23 | 70 |
| 6" | 150 | 356 | 441 | 241 | 279 | 25 | 80 |
| 8" | 200 | 495 | 503 | 298 | 343 | 28 | 135 |
| 10" | 250 | 622 | 539 | 362 | 406 | 30 | 215 |
| 12" | 300 | 698 | 650 | 431 | 483 | 31 | 318 |
Valvetech's Pressure/Temperature Ratings according to ANSI B16.10
| | | | | | | | | |
| --- | --- | --- | --- | --- | --- | --- | --- | --- |
| Temperature ° Celsius | -10°C to +65°C | 100°C | 120°C | 140°C | 150°C | 160°C | 200°C | 230°C |
| Pressure Bar | 13.8 | 12.7 | 12.1 | 11.6 | 11.4 | 10.8 | 9.8 | 8.6 |
Weight: 13.5kg – 190kg
Sizes: DN 50 – 300
Class: 150
Pressure: PN16
Temperatures: -20°C to 400°C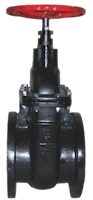 Weight: 14kg – 780kg
Sizes: DN 50 – 600
Class: 150
Pressure: PN16
Temperatures: -10°C to 400°C
Design Standard BS 5152 / MSS SP-85
Flanges conform to ANSI B16.1
Face to Face conform to ANSI B16.10
Petrochemicals and Petroleum, Refineries, Primary Energy, Agriculture, Water Works, HVAC
Acetone, Acetylene, Diesel Oil Fuels, Epsom Salts, Ethane, Heptane, Illuminating Gas, Methanol, Mercury, Methane, Paints and Solvents, Potassium Oxalate, Road Tar
Inventory Code and Description
CIGLOVT372
CI Globe RS 13CR SS Trim Flanged
Boiler Stop Valve
Stop Valve
Throttle Valve
Please click the following PDF icon to download this specification sheet