The Brass Ball Valve Full Bore is designed to ensure low-pressure loss through the valve with minimum turbulence and no obstructions. The Ball of the valve has a bore equal to the inside diameter of the pipe. This enables the same amount of flow through the valve as you get in the pipe, resulting in a very low pressure drop. Unlike traditional valves that restrict the flow by reducing the diameter of the passage, the full bore valve maintains a consistent diameter throughout, allowing for maximum flow efficiency. This feature makes it ideal for applications that require high flow rates or minimal pressure drop.
The Brass Ball Valve Full Bore is constructed from high-quality brass, which offers excellent corrosion resistance and mechanical strength. Brass is a popular choice for valve manufacturing due to its reliability and longevity in demanding environments. It can withstand high temperatures and pressures, making it suitable for a wide range of applications, and its simple design and fewer moving parts reduce the likelihood of malfunctions, resulting in increased operational efficiency and reduced downtime.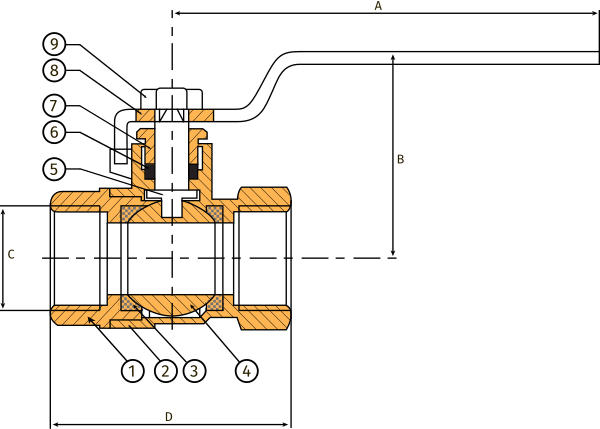 | # | Part | Material |
| --- | --- | --- |
| 1 | Body | Brass Hpb57-3 |
| 2 | Bonnet | Brass Hpb57-3 |
| 3 | Seat | PTFE |
| 4 | Ball | Brass Hpb57-3 |
| 5 | Stem | Brass Hpb57-3 |
| 6 | Packing | PTFE |
| 7 | Compression Nut | Brass Hpb57-3 |
| 8 | Lever | Steel Q235A |
| 9 | Nut | Steel Q235A |
All measurements listed are expressed in millimetres, unless otherwise noted. Product weight is represented in kilograms. DN size is provided in millimetres and NPS size is given in inches. These values correspond to the diagram label and its associated part.
| NPS | DN | A | B | C | D | Grams |
| --- | --- | --- | --- | --- | --- | --- |
| ¼" | 8 | 70 | 37 | G 1/4 | 39.00 | 110 |
| ⅜" | 10 | 86 | 37 | G 3/8 | 41.50 | 120 |
| ½" | 15 | 86 | 41 | G 1/2 | 48.50 | 175 |
| ¾" | 20 | 86 | 44 | G 3/4 | 56.00 | 250 |
| 1" | 25 | 104 | 50 | G 1 | 66.50 | 405 |
| 1¼" | 32 | 122 | 61 | G 11/4 | 74.70 | 635 |
| 1½" | 40 | 122 | 66 | G 11/2 | 85.50 | 890 |
| 2" | 50 | 152 | 85 | G 2 | 102.50 | 1,535 |
| 2½" | 65 | 225 | 106 | G 21/2 | 126.00 | 3,101 |
| 3" | 80 | 232 | 122 | G 3 | 148.00 | 4,070 |
| 4" | 100 | 304 | 140 | G 4 | 169.00 | 6,100 |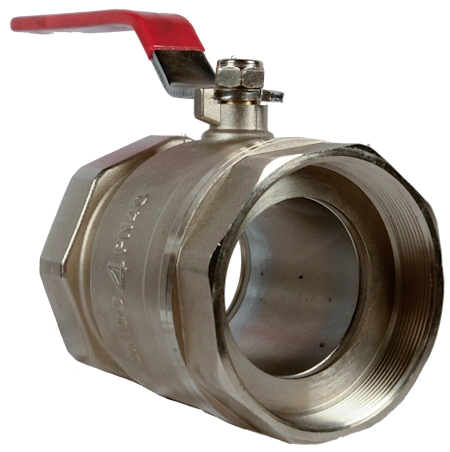 Weight: 120g – 4.5kg
Sizes: DN 8 – 100
Pressure: PN20
Temperatures: -2°C to 120°C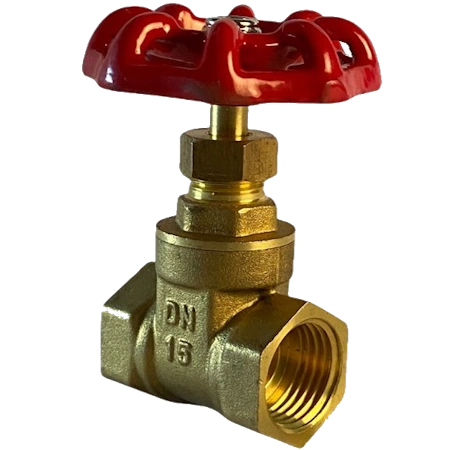 Weight: 245kg – 6.1kg
Sizes: DN 15 – 100
Class: 125
Pressure: PN14
Temperatures: -2°C to 120°C
Brass Hpb57-3, Nickel Plated
Female / Female BSP-G Screwed
Mining, Agriculture, Irrigation, Water Services
Air, Butylene, Caster and Linseed Oil, Diesel Oil, Gasoline, Hydro and Natural Gas, Methane, Nitrogen, Oxygen
Inventory Code and Description
BRBALLN105
BRASS BALL VALVE FULL BORE SCR BSP
Brass Ball Valve 2023 Full Bore Screwed
Ends British Standard Pipe
BRBALLA105
BRASS BALL VALVE FULL BORE SCR BSP
Brass Ball Valve Full Bore Screwed Ends
British Standard Pipe
Isolation Valve
Shut-Off Valve
Spherical Valve
Quarter-Turn Valve
Please click the following PDF icon to download this specification sheet