The Brass Ball Valve Reduced Bore is manufactured using high-quality brass, a durable and corrosion-resistant material. Its reduced bore design means that the internal diameter of the valve is smaller than the pipeline it connects to. This feature offers several advantages, including value for money (reduced costs), lighter weight, and improved flow control. Its reduced internal volume requires less energy to open and close, resulting in reduced operating costs, and making it highly efficient when it comes to energy consumption.
One key benefit of the Brass Ball Valve Reduce Bore design is its ability to provide precise flow regulation. The smaller opening allows for greater control over less viscous fluids passing through the valve, enabling operators to fine-tune the flow rate. This level of control is particularly useful in applications where precise flow adjustments are necessary, such as in pharmaceutical or chemical industries, gas and water industries.
| # | Part | Material |
| --- | --- | --- |
| 1 | Body | Brass Hpb57-3 |
| 2 | Bonnet | Brass Hpb57-3 |
| 3 | Seat | PTFE |
| 4 | Ball | Brass Hpb57-3 |
| 5 | Stem | BrassHpb57-3 |
| 6 | Lever | Steel Q235A |
| 7 | O Ring | NBR |
| 8 | Lock Nut | Steel Q235A + Nylon |
All measurements listed are expressed in millimetres, unless otherwise noted. Product weight is represented in kilograms. DN size is provided in millimetres and NPS size is given in inches. These values correspond to the diagram label and its associated part.
| NPS | DN | A | B | C | D | Grams |
| --- | --- | --- | --- | --- | --- | --- |
| ¼" | 8 | 82 | 36 | G 1/4 | 43.00 | 120 |
| ⅜" | 10 | 82 | 36 | G 3/8 | 43.00 | 125 |
| ½" | 15 | 87 | 39 | G 1/2 | 47.50 | 145 |
| ¾" | 20 | 87 | 41 | G 3/4 | 53.00 | 200 |
| 1" | 25 | 101 | 41 | G 1 | 61.00 | 340 |
| 1¼" | 32 | 125 | 60 | G 11/4 | 75.50 | 530 |
| 1½" | 40 | 147 | 70 | G 11/2 | 84.00 | 800 |
| 2" | 50 | 147 | 75 | G 2 | 97.00 | 1,200 |
| 2½" | 65 | 230 | 91 | G 21/2 | 122.50 | 2,400 |
| 3" | 80 | 230 | 96 | G 3 | 130.50 | 3,200 |
| 4" | 100 | 230 | 106 | G 4 | 149.50 | 4,500 |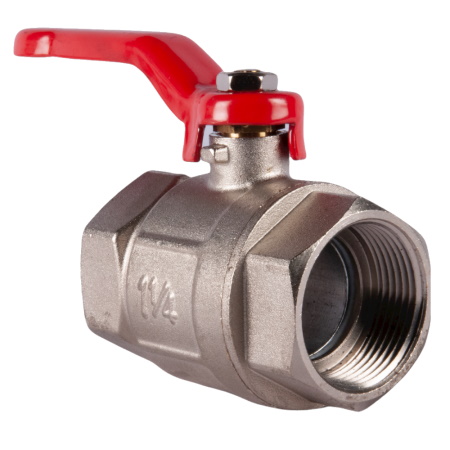 Weight: 110g – 6.1kg
Sizes: DN 8 – 100
Pressure: PN40
Temperatures: -2°C to 120°C
Weight: 250g – 6kg
Sizes: DN 15 – 100
Class: 125
Pressure: PN14
Temperatures: -2°C to 120°C
Brass Hpb57-3, Nickel Plated
Female / Female BSP-G Screwed
Mining, Agriculture, Irrigation, Water Services, Gas
Acetone, Air, Benzene, Butylene, Caster and Linseed Oil, Detergents, Diesel Oil, Ethyl Alcohol, Gasoline, Glucose, Hydro and Natural Gas, Methane, Mineral Oil, Nitrogen, Oxygen, Xylene
Inventory Code and Description
BRBALLN102
BRASS BALL VALVE REDUCED BORE SCR
BSP
Brass Ball Valve 2023 Reduced Bore
Screwed Ends British Standard Pipe
BRBALLA102
BRASS BALL VALVE REDUCED BORE SCR
BSP
Brass Ball Valve Reduced Bore Screwed
Ends British Standard Pipe
Isolation Valve
Shut-Off Valve
Spherical Valve
Quarter-Turn Valve
Please click the following PDF icon to download this specification sheet