But without guidance, without management, you'll end up with that source being absorbed by other species, and your landscape will start facing challenges. So what is the answer? It's pretty simple really – put in control points, manage the pressure, direct the flow.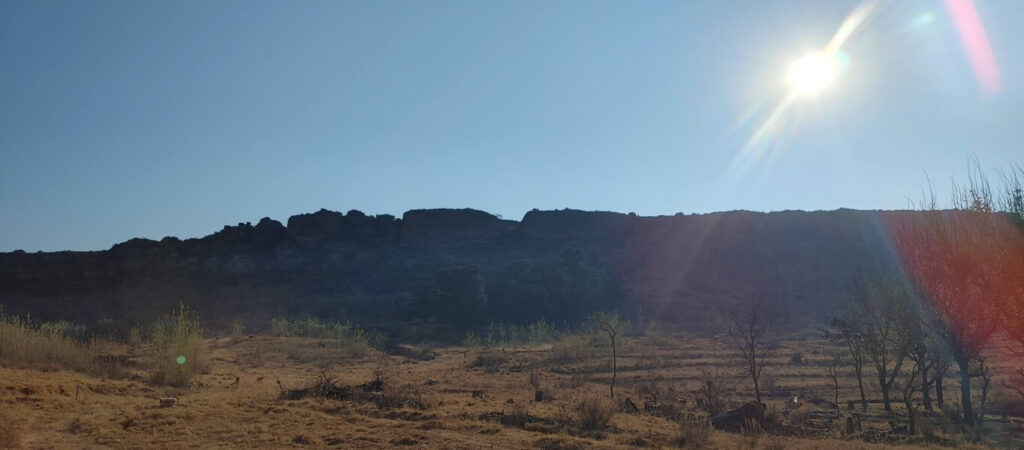 Up in the hills of Daskop Farms in the Free State is a natural spring that constantly runs throughout the year, 24/7, while you are sleeping. Only in desperate conditions does the water table drop to levels where the spring doesn't flow. But this constant source needs to be managed, and the most simplest answer provides the best solutions.
It all looks pretty basic, almost remedial in its operation, but the water is cool, pure, filtered, and natural, and it feeds the reservoirs that sustain the livestock; it replenishes the water for the homesteads, and it irrigates those areas that require more than annual rainfall. It is nature at its most basic form; it does not waste; it is part of the cycle and it is used to its full potential.
But having water coming up through the ground requires some basic management, otherwise it will go to waste, or worse, get used by alien plants and trees that will drain the farm of this precious resource. So what's the plan? How do you make this simple system run simply, without complicating it with technology in an environment where it is not needed? Well, the answer is simple – let a pipe direct the water, and let a valve control the pressure and where it goes.
Let's join the dots…you've got a spring, you have the pipes, you've got the valves. And they don't have to be complicated valves either – just standard brass ball valves, a couple of millimetres in diameter, and as you go further down, and as the pressure requirements start to demand it, increase the size of your pipes, and install either larger ball valves, or check valves to prevent backflow. Even with metal, there is basic intelligence that can control how water will flow through your environment.
And you know what? Gravity works, especially in this environment so what better way to make use of all things being simple, than to let it collect, and then where necessary, send it to its required destination. Simplicity at its most basic form (and you thought this would be hard).
More pipes, more valves, but the process is easy to understand, like a simple flow diagram. The maintenance is greatly reduced. The products supplied are hardy, weather-proof, fool-proof, durable, and resistant to heat and cold and will simply become a part of the landscape for decades. So now you've got your flow, you've got your controls, and you have your storage. Whats the next step?
From this point onwards, anything is possible. Crops, livestock, irrigation, homesteads, even entertainment areas in the harshest of environments is possible with the right mechanisms in place. Just make sure you deal with a brand that knows its products, knows its space, can separate quality from quantity, and provide you with the right component for the right job. And you know what? It's that simple…
Anyone can see that.